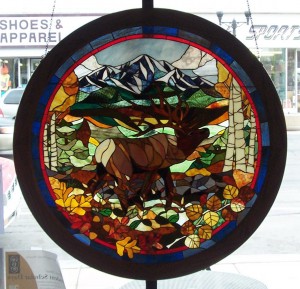 Yesterday the 7th Annual Alamosa Artwalk was held, bringing out many familiar faces as well as new ones from other areas. The day was gloriously sunny, considering the heavy spring snowfall of a couple of days ago.
The streets and shops of Alamosa were filled with artists, entertainers, writers , musicians and speakers. There was something for every age and gender, from face-painting to poetry readings and samplings of local foodstuffs.
I spent a good part of the day visiting the many venues, then the rest at the SLV Brewery, where my work is featured year-long and my two new works had just been added last week for the Artwalk. In fact, I hung "Colorado" early Tues. afternoon & had a committed buyer by that evening. My other piece for the Artwalk, consisting of a pair of corner-hangers entitled "Picses" got a lot of attention, but no takers yet. It was great visiting with fellow artists and past and potential clients.
All in all a wonderful day celebrating the variety of artistic talent in my community.