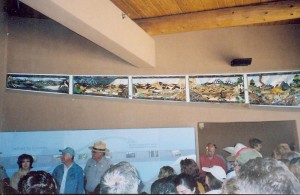 On September 26th, 2009, the installation and unveiling took place at the visitor's center with a crowd-filled lobby. Secretary of the Interior Ken Salazar pulled the coverings from the panels and spoke a few words in honor of "Public Lands Day". Park superintendent Art Hutchison spoke as well and introduced me to talk about the project and my relationship to the Sand Dunes.
I was also honored by the park staff and the "Friends of the Dunes" with a reception for my friends and family after the unveiling.
The first time I visited the dunes was as a young girl on a Scouting trip. Little could I know that someday I would be honored to have such a piece of my work displayed in this park. Since coming to the valley in 1969 as a college student, and later marrying and raising my family here, I have been to the dunes numerous times to camp and hike.
Thus things have come full circle.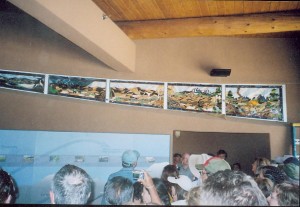 Tags: completed project, Great Sand Dunes Nat'l Park & Preserve, Sec. of the Interior, unveiling, visitor's center